Crestron, one of our partners here at VIcom recently discussed the variety of AV being deployed throughout the modern college campus. They describe the college campus as a microcity considering the AV technology that is going into so many different spaces.
This is both fun and enlightening conversation because though it's not entirely exclusive to college campuses, the college campus does a good job at illustrating the possibilities for how AV technology can be utilized in a variety of industries and spaces.
Let's discuss some of the ways AV technology is being utilized on campus.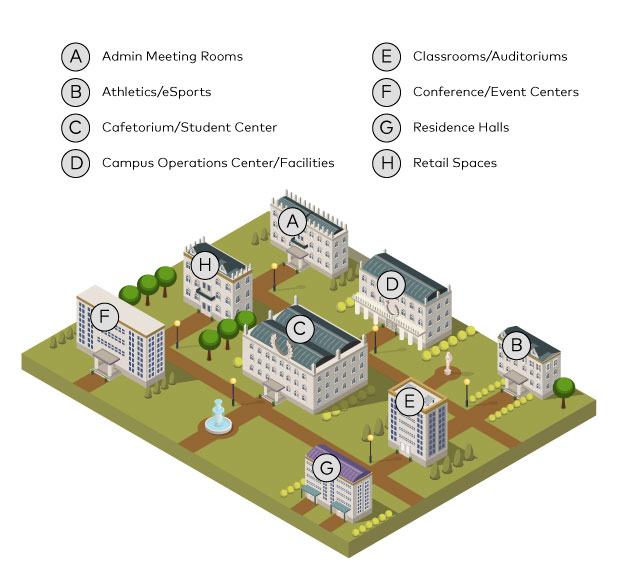 Event Facilities
Conference centers, ballrooms, and other event spaces are often being utilized as multi-purpose spaces that allow for the room itself and its AV components to be divided and used separately or combined and used together. Sensors can trigger actions that are automated to perform tasks such as showing content across multiple displays as opposed to each space having its own content. The goal is to make the AV process easy for non-technical staff to use. Touch screens used to schedule events have become standard as a way to inform students, attendees, and even staff about the availability of a particular space and allow for reporting on how a revenue-generating space was utilized.
Athletic Facilities
AV technology extends far past just stadiums and arenas these days. Coaching staff offices, player meeting rooms, workout rooms, lounges, and locker rooms are just a few examples of areas that utilize a wide range of AV technology. Many organizations utilize impressive AV technology in these areas to draw recruits, enable student fitness interaction, facilitate sports studies, and more.
eSports
With more than $1 billion invested right now and significantly more projected in the next few years, eSports is on the rise and it brings with it an impressive amount of AV technology. New eSports labs feature an AV-over-IP backbone for a gaming experience that's fast and free of lag which is a requirement for eSports. Additionally, you'll likely find a variety of screens showcasing the eSports content, including large LED video walls.
Mixed-use Spaces
These common spaces, sometimes referred to as flexible spaces can function as a place for students to gather and eat or study but can also be converted to accommodate events or town-hall meetings. These spaces tend to have multiple video displays, audio systems, and wireless content presentations. Due to the customizable nature of the space, the AV within the space has to be equally as flexible to accommodate a variety of setups and uses.
These are just a few examples of the variety of AV technology you'll find on a modern campus but more than just the college campus, AV technology can be found in multiple places across a variety of venues. Churches, libraries, offices, and retail stores all tend to feature a wide variety of AV tech. The key is to understand the goals behind the technology and then work with the right partners to bring it to life. Not only will this impress any visitors but it will work towards your goals and purpose while hopefully creating a memorable experience for your participants.
If you're interested in an AV solution for your organization, you can receive an accurate and custom quote for your meeting space by filling out the form below. We'll be in contact with you as soon as possible!
---
Let's Get In Touch
Fill in the form and we will get back to you in 24 hours !
ABOUT VICOM
Audio Visual Virginia Beach | VIcom is well experienced in teleconferencing solutions. Moreover, VIcom assists many organizations in simplifying and enhancing their ability to teleconferencing efficiently.
We are also Virginias' premier technology solutions integrator for Teleconferencing, Zoom, Audio Visual, Unified Communications, Security Applications, Cloud & IT, Church AV Systems, and Educations AV Solutions. Moreover, we are proud to serve clients throughout the mid-Atlantic region of Virginia. For example, Virginia Beach, Chesapeake, Norfolk, Portsmouth, and Suffolk, VA. Also providing service to customers in Newport News, Hampton, Poquoson, Yorktown, Williamsburg, Tabb, Grafton, and Seaford VA.
Furthermore, we have an office in Richmond, VA, better serving clients in the Northern Virginia region, including Richmond, Powhatan, Colonial Heights, Chester, Petersburg, Chesterfield County Midlothian VA.
For more information, call: (757) 490-7777. Please be sure to follow VIcom on Linked In.
Also, see the following articles.
Audio Video
AV Solutions for Businesses
Audio Visual in Virginia Beach
What is Audio Visual?