Now more than ever, effective communication is essential. Technology has enhanced the ability for organizations to quickly and easily communicate messages to their clientele and one of the best examples of that is Digital Signage.
Digital Signage is everywhere and that trend doesn't seem to be slowing down. There is a challenge that many find when deploying digital signage though, who will design what will be displayed? If the organization has a marketing or creative department, the answer is easy but if they don't, this can provide a daunting task.
Luckily, Digital Signage developers have continued to make the process of creating signage content more user-friendly. Additionally, some simple tips can enhance the overall process, resulting in a more effective use of your Digital Signage. Here are a few simple ways your organization can create eye-catching content for your signage, even if you don't have a creative on staff!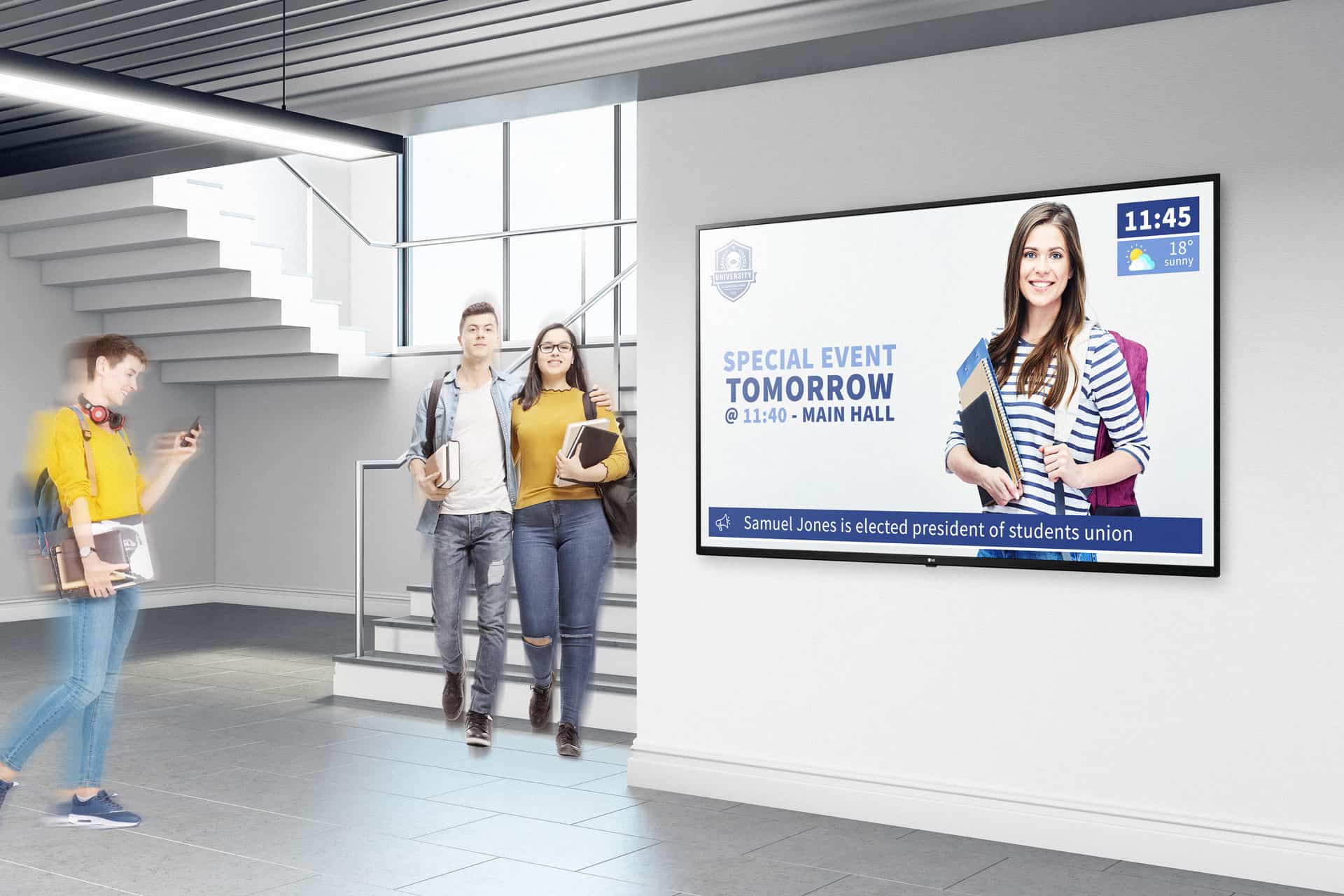 Keep your message brief and to the point. Avoid using too many words by approaching your design with a specific message you intend to provide and then determine the most streamlined way to deliver that message with as little confusion as possible.

Bigger is better. Referencing point number 1, when your message is short and to the point, it affords you the ability to increase your font size which will ensure your viewer can read the message clearly no matter where they are in your space.  

Don't be afraid to utilize a call to action. Ask your viewer to do something. Book an appointment, call today, etc. You've invested in the right equipment for your signage, you've followed steps 1 and 2 which has engaged your viewer without overwhelming them, now utilize this moment of their attention with an effective call to action.

Choose the right images based on the content of your message and the style of your brand. Consider what has drawn your attention to a sign as your walking through a lobby or office space. An image was likely interesting enough to naturally catch your eye before you giving the message on the screen your full attention. The human eye is drawn to interesting imagery, use that to your advantage.

Don't go crazy with the widgets. Most Digital Signage software provides a variety of widgets that can provide all sorts of useful benefits for your sign. Maybe it's providing the weather, a news ticker, a social media feed, etc. However, this can become counter-intuitive if it's visually overwhelming.

Lastly, ask for feedback. It's likely that others in your office or workspace have viewed your design and developed an opinion. Ask them about changes you've implemented. A second eye can be very useful when it comes to something as subjective as design.
If you're interested in a comprehensive Digital Signage solution for your organization, fill out the form below and we'll be in contact!
---
Let's Get In Touch
Fill in the form and we will get back to you in 24 hours !
ABOUT VICOM
Audio Visual Virginia Beach | VIcom is well experienced in teleconferencing solutions. Moreover, VIcom assists many organizations in simplifying and enhancing their ability to teleconferencing efficiently.
We are also Virginias' premier technology solutions integrator for Teleconferencing, Zoom, Audio Visual, Unified Communications, Security Applications, Cloud & IT, Church AV Systems, and Educations AV Solutions. Moreover, we are proud to serve clients throughout the mid-Atlantic region of Virginia. For example, Virginia Beach, Chesapeake, Norfolk, Portsmouth, and Suffolk, VA. Also providing service to customers in Newport News, Hampton, Poquoson, Yorktown, Williamsburg, Tabb, Grafton, and Seaford VA.
Furthermore, we have an office in Richmond, VA, better serving clients in the Northern Virginia region, including Richmond, Powhatan, Colonial Heights, Chester, Petersburg, Chesterfield County Midlothian VA.
For more information, call: (757) 490-7777. Please be sure to follow VIcom on Linked In.
Also, see the following articles.
Audio Video
AV Solutions for Businesses
Audio Visual in Virginia Beach
What is Audio Visual?
Keywords: Digital Signage, Digital Signage Software, Digital Signage Design, Spinetix, Brightsign, NovoDS, MVix